Welcome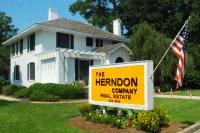 Thank you all for taking your time to choose us once again as the "Best Real Estate Agency" in South Georgia for 2018!! 11 out of the past 13 years!!
The Herndon Company was founded in 1953 by Mr. Arthur Herndon, Jr. who served the Company proudly until his death at age 89. His son, James Lee Herndon is now the President of this multifaceted company. The Herndon Company offers full service real estate specializing in residential, commercial, property management, farms and land in the Valdosta and South Georgia area. The readers of the Valdosta Daily Times chose The Herndon Company as the Best Real Estate Company for 2005, 2006, 2007, 2008, 2009, 2011, 2013, 2014, 2015, 2016, 2017 and 2018. The Herndon's credit "the level of integrity and real estate experience that our firm provides" for being chosen the best in their category. "The knowledge and skills developed and tested through many years of successful real estate experience affords our customers and clients a smooth and worry-free transaction. "The Company has eight people on staff with 24 Sales Associates.Looking for a new home? Use Quick Search or Map Search to browse an up-to-date database list of all available properties in the area, or use our Dream Home Finder form and we will conduct a personalized search for you.



If you're planning to sell your home in the next few months, nothing is more important than knowing a fair asking price. We would love to help you with a FREE Market Analysis. We will use comparable sold listings to help you determine the accurate market value of your home.